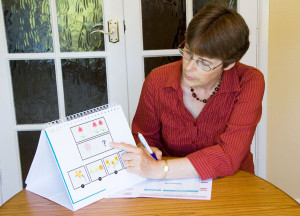 I aim to make the assessment process as friendly and informal as possible and always begin with a relaxed discussion in which you can tell me about your experiences, education and background. Confidentiality is assured.
Dyslexia assessments can usually be arranged within two weeks from your first enquiry.  The detailed jargon-free assessment report will be sent to you via email or post within 7 days of the assessment.
A parent of a young person being assessed is welcome to wait in the adjoining room.
If cost is an issue,  I will accept payment spread over three months by post-dated cheques or bank transfer.
Elaine was friendly, understanding, a pleasure to work with and very thorough. Thanks to her I have answered questions I have had for years, and can now get the help I need to succeed at my university degree. I'd recommend her to anyone.
Free initial discussion
I am happy to answer any questions you have about dyslexia and the assessment process, either in person, by email or over the phone.  This discussion does not necessarily lead to an assessment; you are free to decide if you wish to pursue this. Please contact me to arrange a time.
Dyslexia screening £50
This screening test is offered to give an indication of whether or not you have dyslexia.  From this you can decide if it would be appropriate to undertake a full diagnostic assessment.  This screening test lasts about 1 hour and no report is written.
Full diagnostic dyslexia assessment £350
The full diagnostic assessment covers underlying ability, cognitive skills (memory, speech sound processing etc) and attainment (reading, writing, spelling etc).  The tests are standardised and so provide evidence of performance relative to a "norm".  Other tests will be done as necessary.  This assessment also involves a discussion of early development and school experience.
The diagnostic assessment takes about 2 hours and at the end of the assessment I will explain exactly what I have found and make recommendations. The detailed report is usually available within one week of the assessment and I aim to make it understandable and jargon-free!
If verbal feedback and discussion are required after the report has been read then this can be arranged at no extra charge.
If you are an adult in work I will include in my recommendations ways that your job could be made more dyslexia-friendly,  such as not asking you to take minutes in meetings but letting you record them prior to typing them up or letting you use voice activated software so you can dictate work.
Thank you Elaine for the comprehensive and informative report. I think this will really help M, particularly regarding the feeling that she couldn't achieve because she wasn't intellectually able. Hopefully it will give her a boost in the right direction and school will help her with strategies to overcome some of the difficulties she is having.

Thank you for fitting M in at such short notice.
Full diagnostic assessment acceptable for the Disabled Students' Allowance (DSA) £350

When applying for the Disabled Students' Allowance it is necessary to provide a full assessment report from any age, but it must meet certain criteria.  If you have never had a full assessment before but think you may have dyslexia do contact me to discuss an assessment.  The full diagnostic assessments that I carry out are acceptable for the DSA and provide the necessary evidence for you to receive the DSA.
There are more details about the Disabled Students' Allowance on Gov.UK.
Access Arrangements in Exams £80
Examination access arrangements are made to provide a level playing field during an exam. They aim to adjust the exam situation so that a learner who has a specific disability can still show what they know and have learned about the material being examined without compromising the integrity of the exam.  These arrangements include extra time, a reader, a scribe and the use of a word processor.
Most schools and colleges now offer assessments in-house to provide the evidence required for exam arrangements and you should first seek advice from the Special Educational Needs Coordinator (SENCO) at your child's school.  However, some schools and colleges may not possess the assessment expertise required to conduct exam access arrangements. If this is the case please contact me and I will be happy to discuss how I can help you.
If you are an individual and you believe you should have access arrangements then you should contact your school or college SENCO in the first instance.
Should you require the exam access arrangement form completed after a full assessment the cost will be reduced to £50.
Thank you for the report and assessment. It will really help me in the future.
Where do you do assessments?
I conduct assessments in Taunton, which has easy access to the M5 and other major roads in the region, making it a convenient place to reach.